Silly's Yu-Gi-Oh! is an upcoming spinoff of Silly's Zexal that will begin in Summer 2014. Not much is known about it, other than there will be two new Millennium Items in the possession of Silly and Downsized Downsizer of Downsizeness.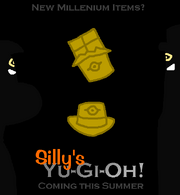 Silly's Yu-Gi-Oh! was announced sometime in the Winter/Spring of 2014, and later received a promotional poster on June 5th, 2014, showing two new Millennium Items, the Millennium Chocolate Bar and Millennium Bowler Hat, along with Yami Silly and Yami Downsizer in the shadows. Silly's Yu-Gi-Oh! finally began on October 6th, 2015.
List of episodes
Edit
Ad blocker interference detected!
Wikia is a free-to-use site that makes money from advertising. We have a modified experience for viewers using ad blockers

Wikia is not accessible if you've made further modifications. Remove the custom ad blocker rule(s) and the page will load as expected.